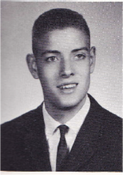 Andy Collins
Thank you for leaving a message for Andy Collins a couple of weeks ago. Such a warm, welcoming message!
I'm sorry to have to tell you that Andy passed away suddenly two years ago. He was such a wonderful husband and dad, and we miss him very much, of course. However, we are all moving forward in our lives, and doing well.
I wish you all a sweet 45th reunion. That seems hard to believe. (I also graduated from high school in 1965.) I hope that many of your classmates will be able to make it.
Again, thank you for calling, and for letting anyone who remembers Andy know that he lived a wonderful life and left a lot of blessings to his family, church, workplace and community.
Warmly,
Robin Scott Collins