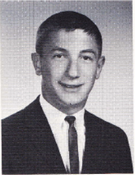 FRANCIS P. "FRANK" JR., 66, of Birchrunville, died December 25, 2013 in Paoli surrounded by his family. He was the beloved of husband of Diane Adams-Donatoni. Frank was born in Bryn Mawr on April 8, 1947, to the late Lena and Francis "Chic" Donatoni. He graduated Haverford High in 1965, Michigan State in 1969, and attended NYU's Stern School of Business. A lifelong member of the Ferrari Club of America, Frank devoted his career to the exotic sports car. Donatoni began his career in 1973 at Algar Enterprises, Inc., where his customers included Mario Andretti and Muhammad Ali. Most recently, he was general manager of Porsche of Annapolis.
A longtime resident of Birchrunville, Frank enjoyed Rolling Stones concerts, the NYT crossword, Formula 1, and his family.
Along with his wife, Frank is survived by his daughter Jennifer, granddaughter Beatrice, sister Elaine and brother Robbie, nieces Kim and Lauren, nephew Phil, nieces Linda and Lizzie, grandnieces Audrey and Ellie, and many extended family members.
A celebration of Frank's life will be held 6 - 9 P.M., January 12, 2014, at the Kimberton Inn, Kimberton, PA.
In lieu of flowers, please send donations to the Animal Welfare Institute or Petersen Automotive Museum.

Published in Philadelphia Inquirer & Philadelphia Daily News on Jan. 1, 2014
- See more at: http://www.legacy.com/obituaries/philly/obituary.aspx?n=francis-p-donatoni-frank&pid=168851144#sthash.SQWMG0Tx.dpuf
Guest book: http://www.legacy.com/guestbooks/philly/guestbook.aspx?n=francis-donatoni&pid=168851144&cid=full#sthash.oX2bA9XS.dpbs