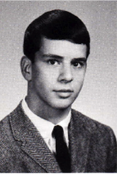 I think this is his obit:
From Newport News Daily Press:
NEWPORT NEWS — Beloved father, brother, son, and loveable old coot, Carl R. Orensky, 61, of Newport News, Va., passed away Friday, Nov. 28, 2008.
Born in Philadelphia, Pa., in 1947, of Abraham and Edith Orensky, the eldest brother of two.
In the 30 years he worked at Eastern State Hospital, he served in nearly every unit of the hospital. During his tenure there, he touched thousands of hearts, and changed innumerable lives.
He is survived by sons, Ian (wife, Courtney) and Aaron (wife, Emily); his grandchildren, Kate, Jack and Hadyn; his mother, Edith; his brother, Frederick; and his partner, Claire Trimer.
There will be a private family service on Thursday, Dec. 4, 2008.
His family would like to extend great thanks to his friends and colleagues for all of their efforts.
As he once said, 'I am not my container.' So, he will be with us, always.
Arrangements are under the care of Altmeyer Funeral Home-Denbigh Chapel, 12893 Jefferson Ave, Newport News, VA. 23608