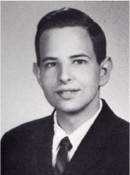 Ardmore is mourning the loss this week of one of its business-district "icons."
Daniel M. Salsburg, owner of the Ardmore Paperback Book Shop on Lancaster Avenue, died Oct. 31 after a 16-month battle with cancer.
Known to everyone as "Danny," Salsburg, of Wynnewood, had owned and run his eclectic independent bookstore for more than 26 years, said his friend and next-door business neighbor for 10 years, Tony Darvish of Felicia's Pizza Kitchen.
The business, as much a place to stop in and talk politics or shoot the breeze as to pick up a good read, had been in Salsburg's family for a quarter-century before that.
"It was one of the older businesses in Ardmore, after Talone's and Stuard's," said Charlie Ward, who was chairman of the board of Ardmore's downtown business authority, then called Ardmore 2000, when Salsburg served as president of the Ardmore Business Association in the late 1990s.
And its owner was one of Ardmore's "icons," Ward said.

Darvish, who said he spent a few hours a day visiting back and forth with his friend, said Salsburg had a degree in mathematics and had worked as a substitute teacher while helping out at the family store. He took over the business when his father passed away.
In a world of chain mega-bookstores, Salsburg's store was "a kind of a throwback to a calmer time," said Nancy Gold of King's Collar Shirtmaker, who succeeded him as ABA president after she set up shop in Ardmore in 2000. "He was his own person," Gold said. "He just stood his ground."
"He ran his store and I ran my store. We had no employees. We were the last two around — one-man shows," said Harry Althouse of Harry's Treasures and Collectibles. Besides that, Althouse said, "he was just a super-nice guy, a practical, common-sense kind of guy.... It's going to be like a piece of Ardmore is missing."
Gold and others remembered Salsburg as a man who always seemed to be on the move. "He had a real lift to his step and he was always moving fast," she said.
"He did a paper route in the morning and he was always in a hurry," recalled Kevin Murphy of Main Line Executive Management, who preceded Salsburg as ABA president. "But he always had a little smile for you."
That's why, Gold said, when he was diagnosed with cancer in July 2008, "it was really shocking to think of somebody with that kind of energy" being sick.
Althouse said Salsburg had kept his store open most of the time since then, working there up until last week.
Many of his fellow business owners said one other thing stood out. That was his "devotion to the business district in Ardmore," Althouse said.
Ward said when Salsburg became president of the business association, it had been a pretty sleepy group. "Danny really got a lot of business owners involved. He would tell them, 'If you want to get things done, you have to get involved.'"
Salsburg pushed to get some of Ardmore's holiday traditions started, including the tree-lighting ceremony at Schauffele Plaza and getting business owners organized to put up holiday lighting.
He took real delight in leading the group. "When we elected him president, we called him El Presidente. He loved that," Ward recalled.
Many said Salsburg was a private person who didn't talk a lot about himself. He and Darvish got to be good friends, though.
People often wish they could do things differently, but Salsburg was someone who "was happy with what he was," Darvish said, adding that he thinks "the Main Line should be proud — he didn't want to be anywhere else."
"When he found out he had cancer, he never said 'Why me?'" Darvish said. "They say the best remedy is to do what you love" and for Salsburg that was running his store and talking to the group of Ardmore regulars who made the bookshop a meeting place. "For him it wasn't work. It was his love," Darvish said.
Services for Salsburg, who is survived by a brother and sister, were held Monday at Beth Emeth Cemetery in Wilmington.
As word of his final illness circulated in Ardmore last weekend, business colleagues began exchanging ideas for a memorial in the downtown area he loved.
Plans were not complete this week but "there will be something in his memory," said Althouse.